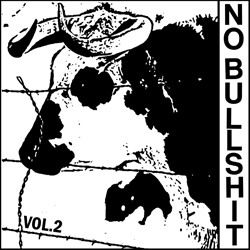 No Bullshit. A compilation series put out by No Way Records, including all your favorite 80's throwback hardcore bands. The bands on these compilations are some of the best around today so if you think you've been out of the loop, check these out. Vol. 1 and 2 are all sold out and out of print but you can still buy Vol. 3 in the
No Way distro.
I'm sure there will be many more of these to come.
Download all three volumes!!!
(32 MB)
Vol. 1 - 2006
(Career Suicide, Government Warning, Direct Control, Strung Up, Bad Dirty Hate)
Vol. 2 - 2006
(Brain Handle, Cardiac Arrest, Rabies, Social Circkle, Warkrime, Wasted Time)
Vol. 3 - 2007
(Life Trap, Socialcide, Double Negative, Out Cold, Chronic Siezure, Acid Reflux)